During the congress the munincipal museum of Göttingen will host two of the working group meetings:
| | |
| --- | --- |
| Tuesday 28 March, 12:30-14:30: | Museums and Material Culture |
| Wednesday 29 March, 12:30-14:30: | Body, Affects, Senses, and Emotions |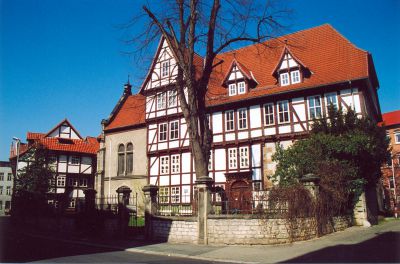 However, due to ongoing renovations, a large part of the museum's rich collection is currently stored in its depot: town history from the Middle Ages to the 20th century, graphics, furniture, fabrics. Including objects of internatioal relevance, such as Göttingen's collection of thora pennants. 
In 2014, the museum celebrated its 125th jubilee. It was established through the efforts of Moriz Heyne, a professor for German philology. The location of the museum changed throughout the years: The premises moved from Goethealle to Burgstraße and then to its current location Ritterplan 7/8 in 1889. Göttingen's munincipal museum offers a collection that relates to the history and culture of the city and region Göttingen.
Only parts of the museum can be viewed at the moment: The permanent exhibition about ecclesiastical art (Kirchenkunst), which includes a room dedicaded to the three monotheistic religions that relate to their mutual founding father Abraham, Christianity, Judaism and Islam, is open to visitors.
At present, the museum is preparing a great special exhibition regarding the city's history. The exhibition "1529 – Aufruhr und Umbruch" opens on the 9th of April. It deals with the introduction of the reformation in Göttingen and subsequently the life, thoughts and believes of the people living in 16th century-Göttingen. Significant objects of the ecclesiastical art exhibition will be displayed in a new light as part of the special exhibition.
Opening Hours:
Mon             closed
Tue –  Fri     10:00 – 17:00
Sat + Sun     11:00 – 17:00